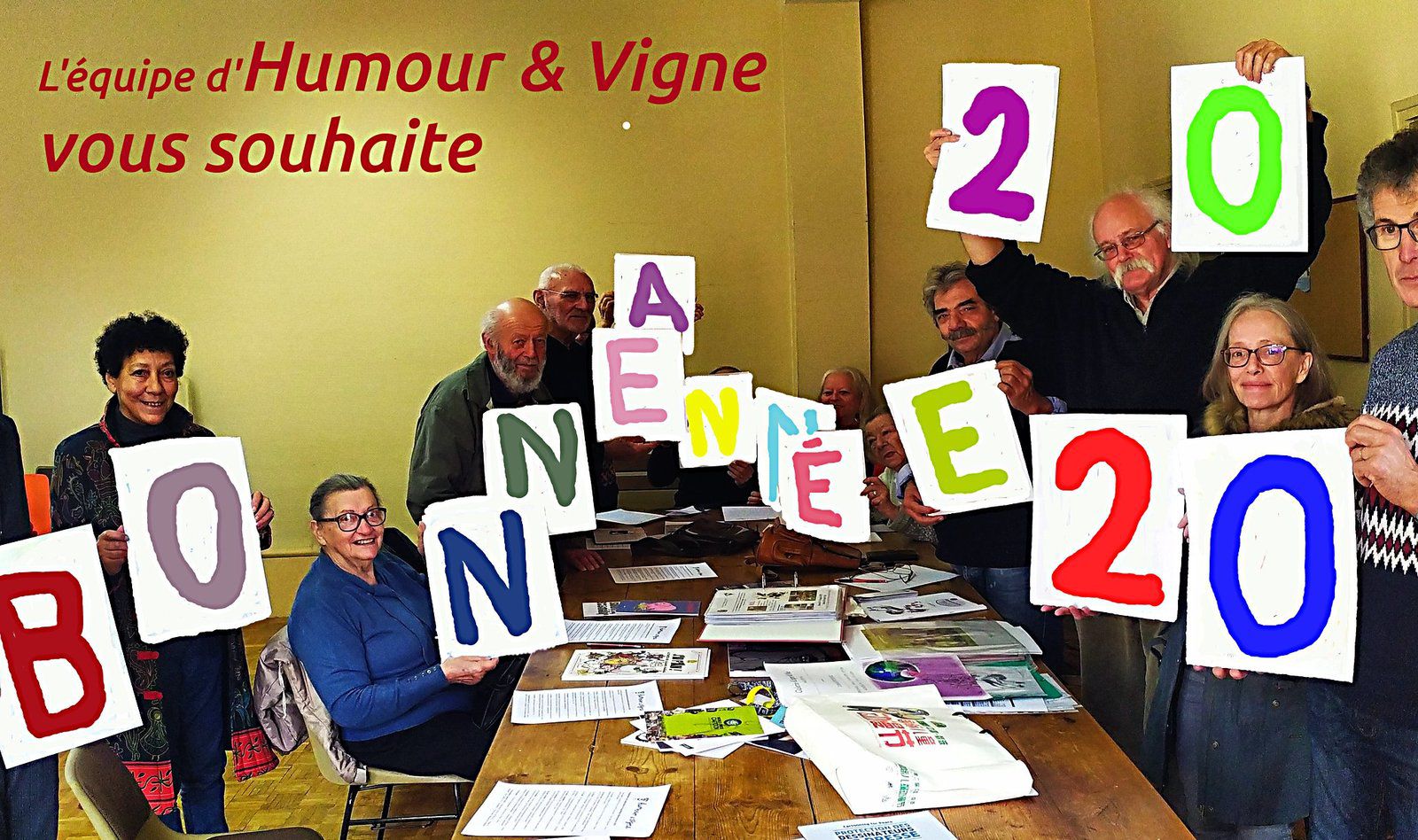 Happy New Year from the Humour & Vigne team
Dear friends,

The whole "Humour & Vigne" team wishes you a Happy New Year.
We are pleased to inform you of the prospects for the :
14th International Cartoon Biennial at the Cloître des Carmes of Jonzac from 26 June to 5 July 2020.
A big thank you to everyone, whose trust and true support encourage us to continue our actions in favor of freedom of expression, humor and tolerance.
Nowadays, 5 years after the massacre of our friends from the Charlie Hebdo team, this commitment seems more than ever necessary. Since the 13th Biennale in Jonzac in Summer 2018, we participated in more than twenty events and around fifty educational workshops or guided tours in order to raise awareness in particular for young audiences.
In 2020 we are celebrating 25 years dedicated to cartoons and the cultural heritage of the grapevine by gathering the talents of artists from around the world and by offering an extensive programme of exhibitions, events, regional and international exchanges, editions of catalogues, posters, special vintage labels, etc.
As guest of honor for the new edition, we will be pleased to welcome the Cuban / Mexican cartoonist Ángel Boligán who will realize the poster drawing.

All artists who wish are invited to send us their contribution:
1- NAME: 14th International Cartoon Biennial - 2020 - Jonzac – France
2- THEME: JOY OF LIVING (with or without link with the grapevine)
3- DEADLINE: 1st April 2020
For more information, please find attached files:
- the conditions of participation
- the program of exhibitions and events 2019-2020.

Hoping to hear from you very soon, we remain at your disposal for further information.

Best wishes,

The Humour & Vigne team

P.S. We thank all the people who sent us their Season's Greetings. As usual we share these works in a web-album "Vœux 2020" via this direct link: https://photos.app.goo.gl/V93c8HqcTEoESfry8
If you wish, you can send us your contribution before the end of the month.